In case you missed it 2013 is here… but I still have to finish off the pictures from last year, so I'll start with those:
364/366 – Cottlesloe Beach
We are finding the heat wave here in Perth, erm… hot. But at least in the evenings we're able to go down to the beach, have a drift in the water, a jump over the waves and a dig in the sand.
366/366 – New Year's Eve
A princess, a fairy, an aunty and a Mama go down to the Malaysian restaurant to join a set of grandparents, an uncle and a great grandmother for dinner… nope, not the start of a joke, but what we did. Then Ameli went home with Oupa and Nanna and spent the night, while Aviya, my brother, sister and I went to Rockingham Foreshore for the new year's celebration. It was so hot, we walked in the gently lapping water and had a cocktail before watching the fireworks from a grassy patch on the beach. It was a perfect new years eve. Peaceful and relaxed. Just what I needed.

 1/366 – Airports
It's the new year! Yay! Except my sister flew home today. Airports suck. Ameli didn't want to say goodbye, but as my sister disappeared behind the immigration line, Ameli jumped up and ran behind her. She saw her going through the barriers and called out her farewells, then cried and cried. My sister cried. I had a knot in my throat. Fortunately the nice lady at the entrance didn't have a fit about us being where we weren't allowed to be.
,
2/366 – After Dinner
I love living in the UK. I love the forests, the canal walks, the beauty, but I've got to tell you, when we have dinner and then my girls go down to the beach for a play for a few hours, I find it hard to imagine leaving this here country for the dreary, rainy cold that is the United Kingdom.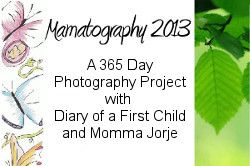 This post is part of the Mamatography 2013 Project with Diary of a First Child and Momma Jorje.
We are taking (at least) a photo a day to keep a record of our year. Join us at any point during the year and start sharing your own daily photos!
Here's a list of current participants:

***
Without further ado, here are the Mamatography 2013 participants!
Earth Mamas World
Quacks and Waddles
Seaside Chelle
Mommy and Little I
The Princess Poet's Life Adventures
Frugal Brit Witch
Me, Mothering, and Making it All Work
MAMA/PAPATography Participants: link up your posts here: