I've spent very little time sleeping and a lot of time cooking this week!
261 – Molars
I hope they're molars at least, because we've not slept in three nights, and I'm exhausted. I thought Ameli had a bad time teething, but this is horrid! Swollen mouth, the works. Poor girl.
262 – Apple Chutney
The place where we found the blackberries last week also has loads of apples, so I made apple chutney. It's amazing! Here's my favourite apple chutney recipe.
263 – Pinecones
It's an apples and pinecones time of year, isn't it! We made a garland to decorate the lounge. Bring a touch of autumn into the home, and all that. They say kids that have contact with nature every day, even if it's just indoor plants, have less chance of depression and other mental illness later on, so we're working on our nature crafts indoors for the winter.
264 – Nearly New Sale
One of the neighbouring towns had a nearly new sale on, so we volunteered to help. I bought Ameli's whole winter wardrobe, and not five weeks later her trousers are all above her ankles and her tops are all above her wrists, so I had to buy a whole new winter wardrobe. Here's hoping this lasts a few months, for sure, and I am so grateful for the nearly new sales. I do not know what we'll do when they run out! (They go to about 7 years of age!)
265 – Courgette Everything
A friend gave us this courgette from her garden share. It's awesome. We used it in a lot of cooking this week!
266 –  Courgette (Zucchini) Soup
I did not know how tasty this was going to be, but Courgette Soup (Zucchini Soup)? It's ah-ma-zing.
267 – The Living Rainforest
We had such a lovely time at the Living Rainforest. It's quite a drive, but what a great day out!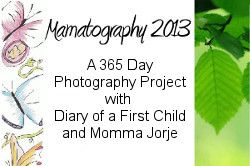 This post is part of the Mamatography 2013 Project with Diary of a First Child and Momma Jorje.
We are taking (at least) a photo a day to keep a record of our year. Join us at any point during the year and start sharing your own daily photos!