I'm spending a bit of time this week on the Ultimate Homemaking Bundle, for three reasons:
1) There's too much to cover in one post
2) It's a fantastic offer with a multitude of resources and for a great, fantastic price
3) Sales like this one help keep food on the table for my family, so I'm helping you, you're helping me, and I appreciate you for it!
Below is a little more info for you on the five books in the Self-Care category. These are books that will help you organise your time. If you bought these five books independently they would cost you at least $25. Purchase the bundle and you have access to 73 more, with extra benefits and offers. This sale ends on April 28th.
You can pay in any currency.
Act now to get the ultimate eBook collection on homemaking at a once-in-a-lifetime price.
Equipped offers three simple steps in an easy to navigate download to help you work through the process of living intentionally. You'll be able to pinpoint key verses and theme that God would like you to focus on this year, draft a mission statement describing how you want to live, and come up with loosely held short term goals that are based on your priorities.
Do you have ideas, hopes, and dreams for what you want to accomplish in your life, but you feel like you're being held back by a lack of personal discipline?
Are you easily overwhelmed by your big ideas or projects, and you just don't know where to start and how to make real progress? Do you find yourself making "all-or-nothing" plans for transforming your life, and then three days later you crash and burn under the weight of your plan?
In Live for Him: A Grace-Filled Approach to Planning, Crystal Paine takes you through a personal evaluation in order to determine where you are now. Then, you dream a little bit to figure out where you want to be. Afterward, you walk step-by-step through creating a plan to get from where you are now to where you want to be.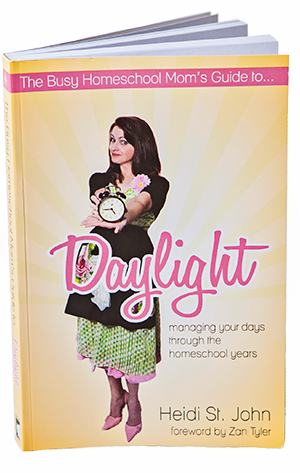 Are you "burning daylight?" If you have ever experienced a series of days, weeks or even months when you felt like you just could NOT get on top of all you had to do, you are not alone. Juggling homeschooling and homemaking can be challenging—or so we've heard!
Whether you're struggling with managing your day, or simply looking for encouragement and fresh ideas for tackling your list of things to do, you will enjoy hearing from the heart of busy homeschool mom of seven, wife and author, Heidi St. John. You'll laugh out loud, learn some of Heidi's favorite tips on everything from home organization to meal preparation, and discover how you can homeschool in freedom and joy. Are you ready to be encouraged? Then join Heidi in discovering that real moms sometimes serve cereal for dinner—and live to write about it!
Also relevant to mamas who don't homeschool!
Do you ever get a few months into a new year and think you've already blown it?

Think again. It's never too late to start planning, dreaming, and living.
A few years ago, Erin Odom started giving herself personal planning retreats near the beginning of each new year and now she's created a 64 page book, filled with encouragement and motivation on how to create your own personal planning retreat. She includes examples of the tools needed to plan and 35 printables to guide you through your own retreat.
Act now to get the ultimate eBook collection on homemaking at a once-in-a-lifetime price.