I don't tend to get a lot of jewellery as gifts, and it's something I am very unlikely to buy myself, unless it's for a very special reason. Most of the jewellery I own is over a decade old! Since the birth of my children however, I have been incredibly fascinated by the human placenta, in all it's life sustaining beauty.  I remember seeing a series of pictures once, possibly by a doula, of trees made by imprinting a newborn's placenta on paper, and I've always loved that association of the life-force of birth with the Tree of Life. We certainly have an association of trees with life, with sustainability and with our continuance as a species. Even down to the 'family tree'.
When Kaya Jewellery got in touch to ask if I'd like one of their beautiful pendants to review, I was absolutely taken by their Tree of Life pendant. I've always wanted a Tree of Life to celebrate my beautiful girls, but as I said – I was unlikely to buy one for myself! You know what it's like? Everything else takes priority!
Each Tree of Life pendant is a 0.4mm thick .925 Sterling Silver disk with a tree design engraved on it. You can have a name engraved under the tree, and a corresponding birth stone placed in the tree. If you have two children, you can put two names, and two birth stones, and up to 5 stones with five names. Prices depend on how many stones you choose – two stones is £41.95 delivered. Prices range from £37.95 to £54.95.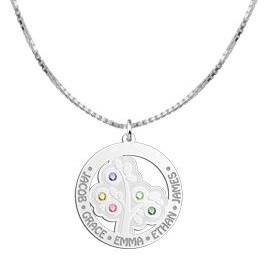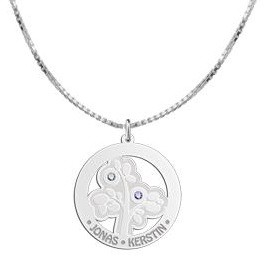 It's a simple but beautiful and everyone who has seen it has loved it. I wish I had three more children, so I can have 5 stones in my pendant!
For me there's so much sentimental value, not only in the Tree of Life design, there's beauty in the birth stones and the engraved names. I simply love it. I wear it with my "Joy" stone every day.
Each pendant also comes safely tucked into a gift box, ready for gifting.
Of course Kaya Jewellery do more than the Tree of Life design, but a whole range of jewellery targeted at mothers, babies and children. You can view their whole range here, but my favourites are:
Kaya Jewellery deliver free of charge to UK addresses, but also ship to Europe and the rest of the world.
If you're looking for a way to celebrate something (birth, motherhood) or commemorate something (the end of your breastfeeding journey, or acknowledging that you're done having babies) or simply just want to buy yourself something nice, have a look at Kaya Jewellery. Their products are beautiful, fantastic quality and embody the emotional moments of motherhood.