Some time ago I wrote about my desires for the year ahead.  I said I wanted peace, and mindfulness and to be present in my days. I'm struggling with that. I'm working hard on it, don't get me wrong, but I'm struggling.  Mindfulness is hard work.
Day 129/365 – Yum
There hasn't been a lot going on the last two days, but I've been doing some baking and making some healthy versions of favourite recipes. I've also been trying to convert recipes to Thermomix recipes.   I've been having so much fun, I'm actually doing so much baking and cooking I don't have time to blog it all, but I'm trying! (Check out a Keeper of the Kitchen, please!)
Day 130/365 – Mama Time
I love Starbucks. Man, their coffee is good. I really enjoyed my Friday mornings at Starbucks, but now Aviya walks around it's… less than relaxing! Someday soon again – then I'll miss the toddler days of go,go,go!
Day 131/365 – Sitz Bath Herbs
I work most evenings. In fact, I go from mama to work to bed and I don't get much sleep. A local mama is due to have her baby soon, so I spent this particular evening making her Sitz Bath Herbs. I really enjoyed just having an evening 'off', even though I did end up blogging it 😉
132/365 – An Odd Choice
An odd choice of snuggle toy! But she takes it to bed and I have to prise it out her fingers. It's kind of cute. Like she is.
133/365 – Day Out
Since going to and returning from Australia, things have chnaged in my friendship groups. It's a bit sad. Actually a lot sad, but a lot of things have changed.  On the up side, I've become a lot closer to people who were on the fringes of the group I was in previously. I'm really enjoying my deeper friendships, and enjoying getting to know them better with trips out and about.
134/365 – Night Out
One of the benefits of the new friendships? A weekly girls night out. It's just a cup of coffee with the ladies, but it's excellent. We actually get to finish conversations without interruptions  I'd forgotten what that was like!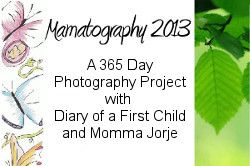 This post is part of the Mamatography 2013 Project with Diary of a First Child and Momma Jorje.
We are taking (at least) a photo a day to keep a record of our year. Join us at any point during the year and start sharing your own daily photos!