We're making the most of summer, as far as we can. We know it won't be around for too long, so now's the time, really! Also, this is my 1000's post on Diary of a First Child. Somehow, that feels like a milestone! Yay me 🙂
198 – Hot hot hot
It's so warm at the moment, and I am loving it. We're taking full advantage of the water play table while the going is good. This particular day we filled the watertable with water beads. Have a look at our top suggestions for ways to use water beads. And why not follow us on Facebook, so you can see what we're up to!
199  – Sprinklers
We don't have a water tap in our back yard, so I put the hose through the kitchen window into the communal garden. The older folks around our square all came out to say how much fun it looked. They were all very sweet.
200 –  An I Need A Drink Day
I don't drink much at all these days. Maybe once a month, usually at events, but at the end of this particular day, I needed to add a shot of chocolate liqueur into my iced coffee. Everyone has days like that, right?
201 – Polka Dot Party
Another birthday party for us, and the theme was 'polka dots'. The girls met the theme, all right!
202 – Fresh
We were busy making dinner when I decided to add some fresh herbs. We went to the garden to pick some. I love that Ameli knows and loves herbs. Not bad for a 3 year old.
203 – Make Up
Oh dear. Someone found my make up bag and got into it. When I asked if I could clean her up she said, "but I like my face just the way it is!"
I do too, baby. I do too.
204 – Hobbledown Farm
What an awesome day out. If you live anywhere near Epsom in Surrey, or are passing that way anytime soon, you must go. Read the full post on Hobbledown Farm.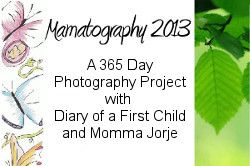 This post is part of the Mamatography 2013 Project with Diary of a First Child and Momma Jorje.
We are taking (at least) a photo a day to keep a record of our year. Join us at any point during the year and start sharing your own daily photos!