Continuing on with the catching up of August's Mamatography, herewith week 33, a week full of fun, home and away.
Day 226 – The Lorax
Dr.Seuss week goes on, and today it's the Lorax. I'm going to have to buy the books, because Ameli is loving it so much!
Day 227 – Winkworth Arboretum
About half an hour's drive from us is Winkworth Arboretum, a National Trust property. I took the girls for a day's walkabout and play. It was quite the workout for us all!
Day 338 – Full House
I love having a house full of children. It makes me want to have more. Oh, if they could find a cure for Hyperemesis Gravidarum. Or if I could forget what pregnancy was like.
Day 229 – Holiday
Well, not quite a holiday, but a night in the Premier Inn. I love seeing my girls rough and tumble with their daddy.
Day 230 – Lollibop 
Lollibop festival, for better or worse, was a fun day out!
Day 231 – Woodland Camping
I took the girls camping for a few days, just us and the woods – and our friends. It was bliss. It was perfect. It was Eco Camp UK.
Day 232 –  Bodian Castle, East Sussex 
Day two of camping, we went to Bodian Castle and had a wonderful day out. It's such a lovely castle and the children loved it!
 Thanks for joining us for our week in pictures!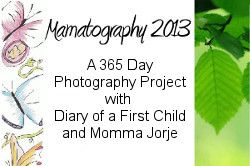 This post is part of the Mamatography 2013 Project with Diary of a First Child and Momma Jorje.
We are taking (at least) a photo a day to keep a record of our year. Join us at any point during the year and start sharing your own daily photos!