It's a far cry from life, say five years ago, but this is life now, and it's  pretty good, most of the time.
Day 283 – Food Swap
I set up a food swap with a few of my local friends to celebrate the beautiful bounty of the Autumn. Everyone brought one item type, with enough for everyone.  It was lovely, as we all went away with 8 or so different things to what we arrived with. It was lovely and we've been enjoying our Autumn Bounty for days.
Day 284 – Red Thread
It's with great sadness that we heard our Red Thread days are numbered. Due to personal circumstances for our lovely leader, the group is going on hiatus.  I'm so sad but with perfect understanding. I absolutely will miss this space in our weeks though.
Day 285 – Curls
I have nothing to say here, other than wow.  How much I love these golden curls. 


Day 286 – Home Made With Love
It's only pizza. But when it's home made – it's totally made with love.  And totally to specification. Yum Yum.
Day 287 – Photographing My Book
So I wrote a book! Did you know? Bliss Balls For Beginners has 21 starter recipes. They make perfect raw, gluten free, dairy free and sugar free – mostly – recipes for everything from Christmas 'cake', to 'Bounty' balls – gorgeous coconutty yum. There are goji berry recipes for extra energy and a little something for winter warmth – chilli chocolates.  Chocolate without the guilt. What's not to love? 

Day 289 – Autumn Nature
Every Tuesday, more or less, we go 'out and about' as Ameli says. This particular Tuesday we were at a National Trust property, where they gave us a treasure hunt of sorts. As it turned out we only found one type of pinecone, but the children had so much fun none the less.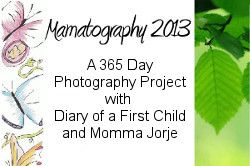 We are taking (at least) a photo a day to keep a record of our year. Join us at any point during the year and start sharing your own daily photos!